I think I sound like a broken record, but WHERE THE HECK IS THE TIME GOING???? This fall is going by in a blur.
First of all, a big thank you to any veterans who wander by this way.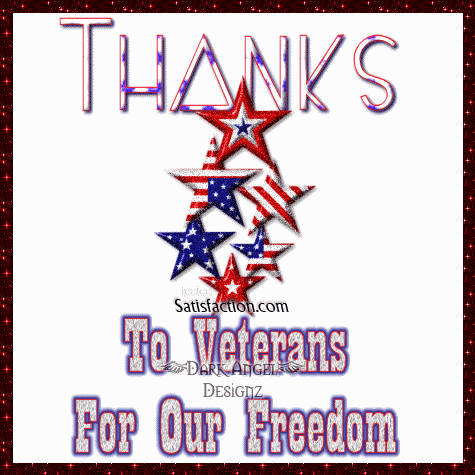 Free Comments & Graphics Codes
Prayers of thanksgiving are in order...Alyson is settled in Seattle and has a part time job, and Roy has returned safely from helping her move. He was gone for 12 days. His energy and stamina always amaze me.
The leaves are beginning to change, and there are some really pretty trees around. I love it when there are batches of colored leaves in the midst of the green ones.
I counted the money for our church's pumpkin patch again this year. It's always a fun time. This year, on the 31st, our high school youth offered "trunk or treat" for the neighborhood children. They parked their cars around the parking lot...opened up the trunks or hatch backs...and handed out candy. Several adults participated, too. Most of the youth had on costumes, and several of the adults had decorated the backs of their vans. The little kids had a great time. It was amazing how quickly we went through candy. Had to send folks to the store for refills several times.
One of our Golden Retrievers has had a severe attack of arthritis. Will have to take her to the vet first thing in the morning for a steroid shot.
We don't have any special plans for Thanksgiving. This will be the first year in the span of the past 28 when we haven't had at least one kiddo with us. Roy is still planning on cooking a turkey...that's his specialty. That should keep us in meals for quite a while.
hmmmm...have been working on this post all day long...off and on, of course. I haven't said much, but I think it's time to click on "publish" anyway.
Say hello when you get a chance!
hugzzzzzzzzzzzzzzzzzzzz to all!